Creative Homes and Gardens would like to present our premiere line of patio furniture: the Sun Valley series Adirondack Outdoor Furniture.  The CH&G team has created a line of outdoor furnishings with truly innovative and original features.  The design boasts an "Easy Come and Go" type construction, a "Sun Back" recline, full length arm rests, and stylish curves.
"Easy Come and Go" is the Creative Homes & Gardens way of saying you will be able to sit down and stand up with ease while using our hand-designed lawn furniture.  Unlike typical Adirondack furniture, our Sun Valley series features seats placed at a comfortable 13" height.  This allows a person to easily sit down and stand up while accentuating a person's natural sitting position.
The Sun Valley series lawn furniture boasts a "Sun Back" recline which features a tall back set at a semi-recline angle.  The tall back is high enough for the tallest person to lean their head back and rest their neck.  The particular angle of the back gives your neck support and allows you to relax while talking with friends or reading a book.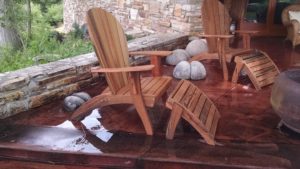 Our full-length arm rests also take advantage of the same angling which makes the back of the chair so comfortable.  The arm rests are placed at a specific height to allow optimum comfort when resting your arms and shoulders.  You can even rest your favorite beverage on the arms of the chair knowing you won't spill a drop.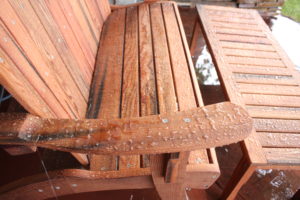 The Creative Homes and Gardens team is especially proud of the stylish curvature of our design.  The curvature departs from the straight lines of traditional Adirondack chairs and imparts a wonderfully natural feel to the furniture.  You can see the natural curves in the arrangement of all parts of the construction: arms, back, legs, and every small detail.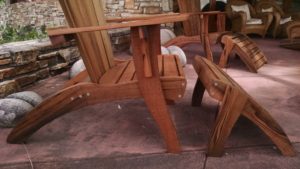 The CH&G team is able to incorporate every one of these design fundamentals into all aspects of the entire Sun Valley furniture series.