At Creative Homes and Gardens, we strive to create a beautiful and functional line of outdoor furniture.  The first step of the process was finding durable wood that could withstand the rigors of being outdoors in all four seasons.  At the same time, we wanted to be eco-conscious by choosing wood types that were sustainable and environmentally friendly.
Our first choice for furniture material is cypress.  The cypress we use is old-growth timber originating from swampy areas of the Gulf Coast region.  Being both strong and dense, it is innately pest and rot resistant.  It also has a high resistance to UV degradation.  Our reclaimed old-growth cypress is much more durable to every kind of decay when compared to modern, younger cypress trees.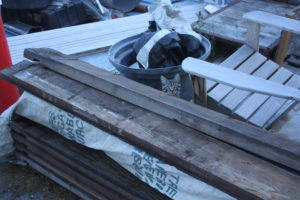 Cypress has a history of being used in the construction of commercial pickle vats.  The vats were up to 30′ in diameter!  This is where we source our reclaimed wood from.  The natural resistances of the wood are further enhanced by the high salinity from being soaked in pickle brine for decades.  At the same time, the brine does not affect the patina of our cypress; therefore, the wood holds onto its original color and texture.  Since the wood was used in food production, it has never had a history of coming into contact with artificial chemicals.  You can be sure the finish we use is the only one ever used in the woods' life.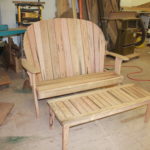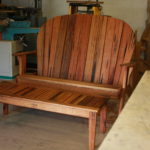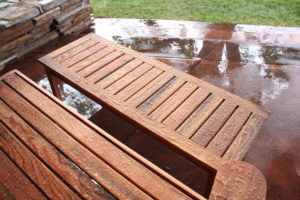 We methodically remove all of the nails, giving each piece of wood an original characteristic.  Each piece of wood has its own unique history!  One can imagine the number of people that have worked the wood during its lifetime.
Using reclaimed wood is inherently more labor intensive than using freshly-cut wood.  However, we believe all the benefits associated with using old-growth, reclaimed cypress is the reward for the labor involved.  Sustainability, history, natural beauty, and the inherent properties of the old growth cypress all lend towards giving you a piece of furniture that will last a lifetime.