Creative Homes and Gardens would like to introduce our latest project: the All-American Wood Panel Flag.  We are very proud to say this representation of Old Glory is 100% made in the USA, including all of the wood and metal used in making the flag.  We handcraft each piece, to order, here in our shop in the beautiful Hagerman Valley of Idaho.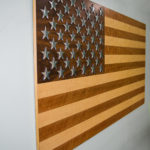 The configuration is a traditional 50 star display that is proportionally correct to the current US flag pattern.  The size of the piece you see in the pictures measures 66 inches wide by 34-¾ inches tall by ¾ inches thick.  The material we use is:
White stripes – figured hard maple
Red Stripes – figured American Cherry
Union – figured Black Walnut
Stars – ¼" aluminum, brushed/swirl pattern
Edges – solid hard maple
Back – figured hard maple
Substrate – MDF
Finish – hand-rubbed effect lacquer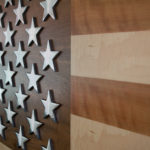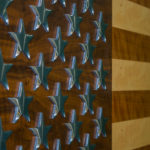 Since we make each piece to order, we have several different design options available.  We have multiple types of veneer, and the metal stars can be made of brass, bronze, nickel and even stainless steel.  We can also engrave the flag with your custom logo. On top of design options, we can also handcraft the flags for specific uses.  Pictures show a wall mount, but other suggestions are:
1) As a table top piece we can add a custom table base
2) Use it to conceal a wall mounted storage cabinet (we can custom make the cabinet here in our shop)
3) Conceal a wall mounted safe
We invite you to explore your ideas with us!
The cost of the wall mounted piece shown in the pictures is $3500.  Please contact us to discuss any customized additions.