Creative Homes and Gardens is proud to showcase our newest line of outdoor patio goods with our Sun Valley Series Adirondack furniture.
The CH&G team is recognized by the fact that we construct all of the furniture in our small woodshop located in the beautiful Hagerman Valley.  From design to finish, all furniture is put together by hand down to the smallest detail.  Our Adirondack furniture features extra thick wood for support, a hand-done finish to accentuate the natural beauty of the reclaimed cypress, and durable hardware that will last a lifetime in the outdoors.
The Sun Valley series is constructed from reclaimed, old-growth cypress which was used in the past to make pickle barrels.  This enables us to re-saw the wood to a specified 1-1/4" thickness for weight bearing parts.  The seat and back are ¾" thick, while the leg joints are supported with 3-1/2" x 3" hardwood dowels and waterproof adhesive.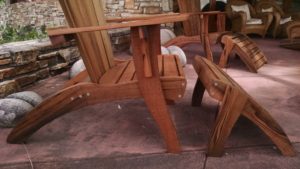 Finish work and staining is done in our small shop by hand.   We take the time to ensure all surfaces are covered to be able to endure any type of weather Mother Nature can bring to your home.  We also want to accentuate the natural color of the wood by using neutral stains. Our stain is a solvent-based water sealer which penetrates the wood fibers, ensuring a protective layer.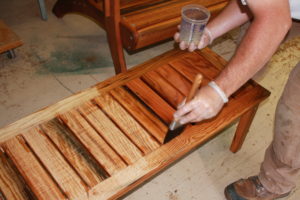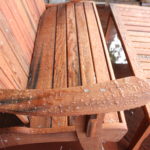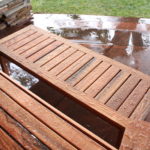 We have carefully chosen hardware fasteners to withstand all types of weather extremes and remain pristine for a lifetime.  We used both stainless steel screws and powder coated screws to assemble the hidden parts of the various types of furniture.  You will never see rust stains or failed hardware with our Sun Valley furniture series.
You can be sure the Creative Homes and Gardens team works diligently to construct your outdoor furniture.  Everything we fabricate will last a lifetime on your patio and in your garden.